The Daytona 500 was brutal for most fantasy players.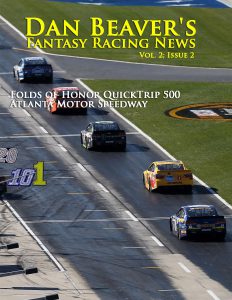 Now the series rolls onto a similarly-configured, 1.5-mile track. This course type has long been among the most predictable in the sport because 10 races are run at Atlanta Motor Speedway, Charlotte Motor Speedway, Texas Motor Speedway, Las Vegas Motor Speedway, Kansas Speedway, Chicagoland Speedway, and Kentucky Speedway. Three more are run at Michigan International Speedway and Auto Club Speedway.
Several of these get bunched up at the start of the season, which has typically allowed drivers to develop some momentum.
But, the segmentation comes into play again. Teams have to decide if they are going to forego the short term gains of up to 10 championship points at the end of each stage for the big picture of winning the race. Any driver who is not in contact with the top 10 near the end of the segment might chose to pit early if they think they can stay on the lead lap.
Or head to the Previews Page to download if you have already subscribed.