The rubber match of round three this week comes on one of NASCAR's great venues. The one-mile flat tracks require a delicate balance of speed and skill. The straights are long enough to require exceptional horsepower and the corners are tight enough to necessitate strong brakes—and it takes a special driver to balance aggression and patience.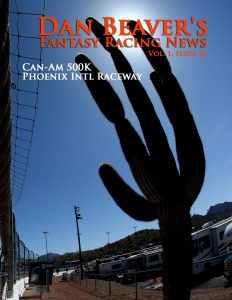 Twice the size of Martinsville, Phoenix International Raceway does not have the same challenges in regard to traffic, but there are still a lot of similarities. Drivers have to back up the corner and ease into the turn so they can maximize the exit. The difference between charging a turn or easing into it can be a matter of a few feet, but the momentum that either creates or destroys is felt all the way around the track. In NASCAR tenths of a second in clean air can make a huge difference in performance.
The Can-Am 500k is the third and final race during the Chase on a short, flat track, so fantasy owners have some recent records to consider. Look first to how drivers performed on the other one-miler of New Hampshire Motor Speedway. If a racer was strong there and at Martinsville two weeks ago, they should be highly regarded. Next, look to the fall Richmond International Raceway event and the rest of the short, flat track season on these four tracks. Then consider how well a driver performed in the Good Sam 500k this spring and their overall Phoenix record.
Or head to the Previews Page to download if you have already subscribed.